Class 6J
Welcome to Mrs Jassal's Class!
A very warm welcome back to everyone! We are finally in the Summer term and fast approaching, not only the end of the school year but the end of our time at primary school!
The year 6 staff team consists of: Miss Rashid, Mrs Jassal, Mrs Parker, Miss Mirza, Mrs Patel, Mrs Perry and Mrs Hough and we would like to continue to work closely with parents to support children during this year.


Life in Year 6 - Spring Term
It may only be the start of the Summer term but year 6 are continuing to work very hard! We have stepped up the preparation for our upcoming SATs in two weeks with another set of tests already completed, daily SATs practice, online revision to improve our grammar and lots and lots of handwriting practice too.
We have a fantastic and exciting term ahead of us but at the same time children are feeling anxious about the hard work ahead of them-especially the SATS.
In order to support your child please can you make sure that your child arrives at school by 8:40am so they can be in the classroom promptly at 8:45am, in order to complete essential early morning SATs practice. If you would like to know more about how you can support your child in Year 6 then please call in to see us or catch us after school in the playground.


English
In English this term we are working on persuasive non–chronological writing as well as preparing for the SATs. In Summer 2 we will be writing mystery stories to create suspense and deepen character understanding and will then move on to poetry.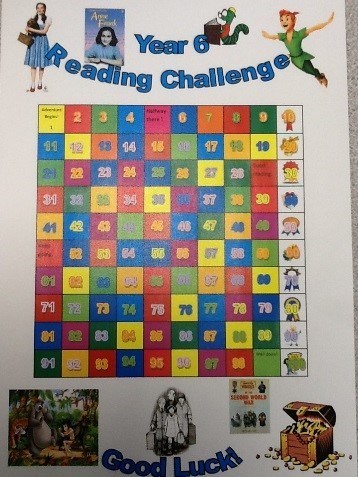 Reading
We are developing our understanding on improving our inference skills. Last term some children in class 6R were not reading enough books or completing/ passing quizzes. The children can access quizzes at home through the school blog. We need to read at least 2 books per week, complete the quizzes and pass them! Using a dictionary to check any unknown words will help us to understand our books.
We would like you to encourage your child to read as many books and get them to recall the main events so that they can complete the reading challenge set in school. For every 10 books they read, they will win a small prize. So Happy Reading year 6!


Homework
Please encourage your child to put 100% effort into their homework and where possible please try to check their homework. Occasionally, there will be extra homework challenges and tasks set to consolidate learning.


Mathematics
This term we will work on fractions (including decimals and percentages), properties of shapes, geometry (position and direction) as well as build on our number and place value skills. We will also continue to work on our reasoning skills and refine our written methods.
Science
During the first part of the summer term the children will be learning about bacteria and disease. Children will expand and deepen their knowledge and understanding of fossils as well as learn about the work of Mary Anning. We will also look at animal adaptation, evolution, natural selection and study the work of Charles Darwin. To complete the summer term, the children will extend their knowledge about types of light source - both natural and artificial. They will learn how light travels and reflects, and know that Newton worked on ideas other than forces.


History and Geography
In this term we will be studying the Ancient Greeks. We will be learning about Ancient Greek civilisation, the origins of the Olympic games and Greek mythology. Next half term we will move on to studying modern day Greece and the Olympic games.
Art
In Art this term we will be studying four types of art techniques and create our own pieces of art work.


Homework
Please encourage your child to put 100% effort into their homework and where possible please try to check their homework. Occasionally, there will be extra homework challenges and tasks set to consolidate learning.
Suggested websites to support work within the National Curriculum areas and Revision:
Writing
http://www.bbc.co.uk/bitesize/ks2/english/writing/
Check out the above link for writing examples, tips and games.
Spelling, punctuation and grammar (SPaG)
http://www.bbc.co.uk/bitesize/ks2/english/spelling_grammar/
http://www.crickweb.co.uk/ks2literacy.html
These sites provide activities that let you practice your spelling, punctuation and grammar, with games such as alien hangman and collective nouns.
Maths
http://www.topmarks.co.uk/maths-games/7-11-years/mental-maths
This website has a range of games to help you practise your mental maths, including speed challenge and ghost blasters.
Science
http://www.bbc.co.uk/schools/scienceclips/ages/10_11/science_10_11.shtml
A good link to arrange of Science topic video clips and activities.
A range of fun games
http://www.crickweb.co.uk/fun-games-six.html
Test your skills with these multi-level maths puzzles, action and memory games.
REMINDERS
Attendance is extremely important, especially in year 6. It is highly discouraged to take any time off school due to holidays. There is a target of at least 95% attendance rate in school and those falling below this will be invited in for a discussion.
Please ensure that your child has the correct school uniform and PE kit.


These are a few things to remember!
PE is on a Monday so please make sure your child brings the correct kit - white t-shirt, blue or black shorts/tracksuit trousers and pumps/trainers.
Water bottles need to go home each night to be washed and re-filled – this really helps with concentration and stops your child becoming dehydrated.
Homework, consisting of English and Maths, will be given each Friday to be returned on Monday and each Monday to be returned on Friday. Yellow slips will be given out if it is not done or not completed to a suitable standard. Extra topic homework may be given when necessary.
It is very important to read regularly. Children should be trying to read every day at home and then taking a quiz when they have finished their book. This is even more important in year 6 as it will help with preparation for the upcoming SAT's. When we receive 100% on 3 consecutive occasions, we can then go onto a higher level. All children should aim to do 2 quizzes each week! Books can be changed before school, at break time, during guided reading, lunch time and after school.
Spellings will be given out on a Froday to learn for our spelling test the following Friday.