P.E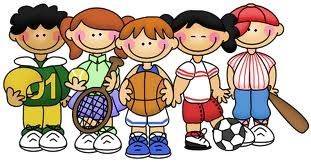 All children will take part in P.E. If your child is injured and unable to take part in P.E a letter must be provided.
The activities your child will take part in will include dance, games, gymnastics, athletics, orienteering and swimming in Year 4.
Click on the new link below for the Legacy Sports PE challenge.
"In our efforts to help you keep children active and developing movement skills at home we are pleased to be able to share a programme from our partners at Sporting Age. The "Stay At Home Challenge" is free, good fun, easy to follow and uses everyday household items. Give it a go and let's get your children Moving with Confidence!" Just follow the link below:
P.E Curriculum
Children will take part in a range of activities throughout the year and work towards improving their fundamental skills such as balance, coordination, speed and agility. If you would like a more detailed description of the work your child will be doing in P.E please click on the class curriculum overview for your child's year.
P.E Kit
All pupils taking part in P.E are expected to bring a P.E kit. This consists of:
A white polo shirt

Blue/black tracksuit bottoms or shorts

Pumps or trainers
No jewellery and hair must be tied back. Please ensure earrings are removed at home on the day of your child's P.E lesson. Otherwise, they will not be able to participate in P.E lessons. If you are unsure of the day please check with your child's class teacher.
P.E Clubs
Heckmondwike Primary School offers a wide selection of before and after school P.E activities. For more details and a timetable click here.



Sport Premium Funding
Government departments have provided every primary school with funding to develop P.E, Sport and Health.
In our school, we are using some of this funding to work in partnership with Legacy Sport CIC. We have also become members of the Youth Sport Trust. Together we aim to:
increase the amount of competitive sport in which our children participate;

develop links to community sports clubs and providers;

promote leadership skills through sport and provide pathways for both talented children and those with special needs in sports and

encourage maximum participation in physical activity and deliver health programmes to improve the wellbeing of our children.
Qualified P.E instructors and sports coaches will work alongside class teachers and regular training will be provided for school staff. Subsequently our children will have the chance to learn new skills whilst teachers will learn new techniques to enhance their teaching of P.E and sport.
Our long term aim is higher quality P.E and improved learning for children at our school.


To view how we plan to spend our 2017 - 2018 funding allocation please click here.
The impact of the Sport Premium Fund 2017 - 2018
Click on the link below to find out how the sport Premium fund was used in our school last year.